Erlanger introduces the 2014 Miracle Children during annual tree lighting event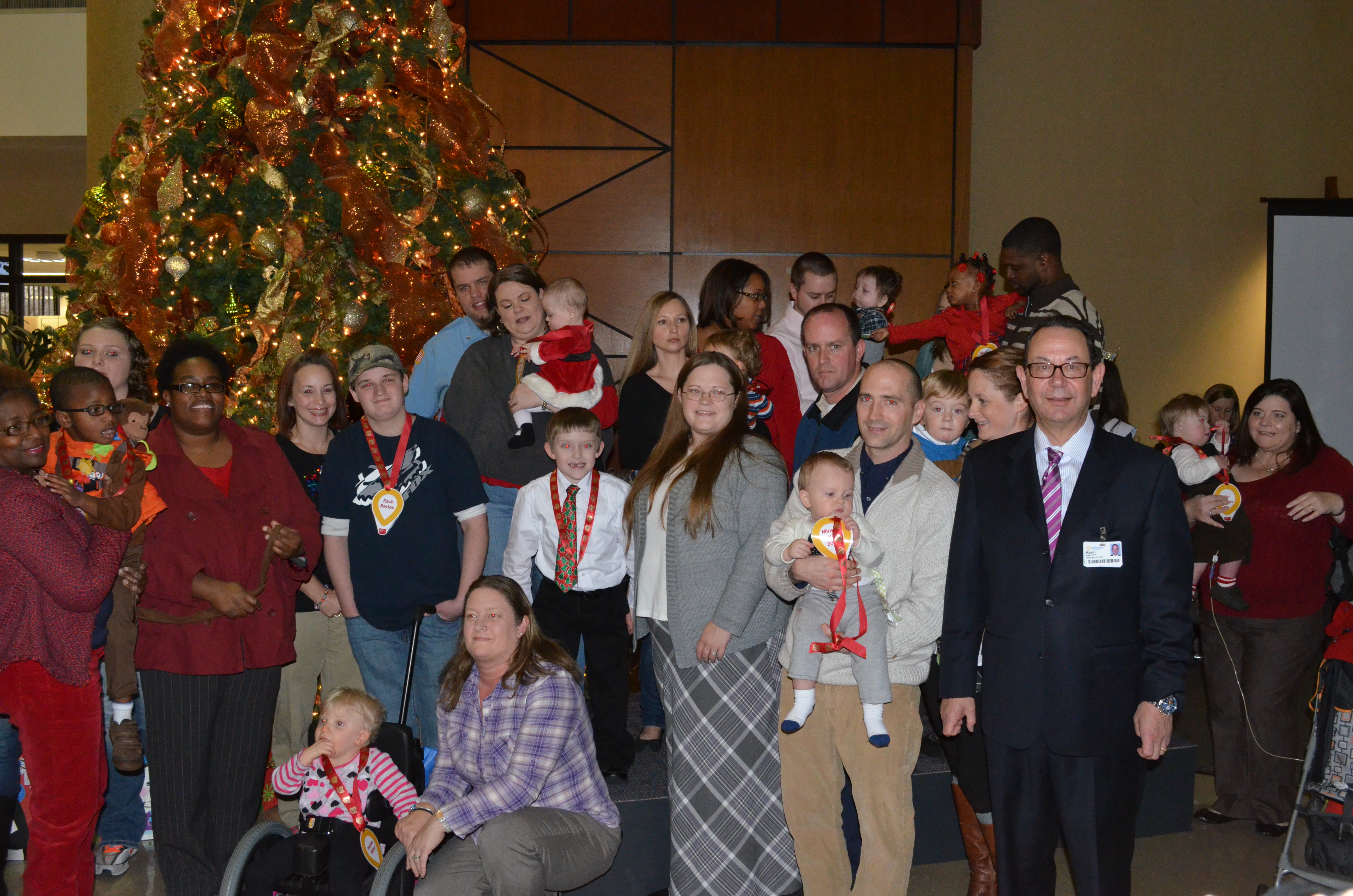 Chattanooga, Tenn. – The Erlanger Health System introduced 19 Miracle Children during the annual tree lighting event yesterday in the Baroness Campus Medical Mall.
The Children's Hospital Foundation officially kicked off the holiday season at Erlanger with the tree lighting and introduction of the children.  The event also included music from a local bluegrass band, Cannon Creek, arts and crafts, visits with Santa and Erlanger departments participating in a parade of presents to support the Child Life program.
The Miracle Children will represent Children's Hospital at Erlanger throughout the coming year as part of the Children's Miracle Network (CMN) Hospitals.  The Miracle Children are:
Destiny

Kilgore

16

Acute Lymphoblastic Leukemia

Dunlap

TN

Haylee

Miller

4

Chromosome B deletion, failure to thrive

Chattanooga

TN

Violet

Thornburgh

15 mo

Kawasaki

's Disease

Ooltewah

TN

Conner

Pullen

 

Cyanosis

Trenton

GA

Ian

Hughes

2

Down Syndrome, short gut syndrome

Ooltewah

TN

Nery

Coronel

 

Apert's syndrome

Chattanooga

TN

Christy

Le

17

T cell lymphoblastic lymphoma

Dayton

TN

Bella

Reid

15 MO

Germ Cell Tumor

Tunnel Hill

GA

Shealeigh

Brewer

12

Ewing

's Sarcoma

Riceville

TN

Alainey

Charles

4

Wilms Tumor

Chattanooga

TN

Charlie

Buffat

18 mo

Prematurity at 26 weeks gestation

Chickamauga

GA

Mia

Geer

1

Prematurity at 25 weeks gestation – in hospital 168 days

Chattanooga

TN

Taylor

Mitchell

2

Prematurity at 24 weeks gestation

Chattanooga

TN

Josiah

Lopez

2 years 4mo

Prematurity at 25 weeks gestation  – in hospital 98 days

Ooltewah

TN

Arianna

Lopez

19 mo

Prematurity at 23 weeks gestation – in hospital 149 days

Ooltewah

TN

Daniel

Cordell

 

Genetic disorder, trach

LaFayette

GA

Zach

Barton

14

Intestinal Pseudo-Obstruction, Sever Anemia

LaFayette

GA

Joel

Westbrook

7

Spina Bifida, Hydrocephalus, Chiari Malformation, VP shunt

Rossville

GA

PJ

Fox

3

Sickle cell, eosinophilic esophagits, asthma, food allergies

Chattanooga

TN